5 Tips for Choosing Wedding Favors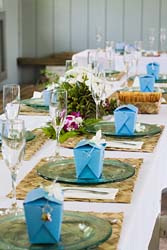 If you're planning a wedding, wedding favors might be one of the last things on your mind. After all, you've got a lot of other things to worry about, right? There are the invitations, the venue, the food....there are so many other things that come before considering what kind of wedding favors you would like to leave out for your guests. Eventually, however, things will calm down and you'll want to find the perfect favors for your guests. When that time does come, here are some things to consider:
1. What is your budget? You want to find something that is meaningful but also affordable.
2. Think in bulk. Some things are simply cheaper in bulk. For instance, tea light candles are cheaper in bulk if a candle and holder are part of your gift set.
3. Think about what you represent as a couple. What is your personality as a couple? If the two of you are funny, you might want to consider having a humorous wedding favor.
4. Consider the environment. Being eco-friendly is more popular than ever these days. If you give out something homemade or 2nd hand, discussing with your friends how your wedding favor is eco-friendly will impress them.
5. Speaking of eco-friendly, seeds always make such a wonderful gift. The most beautiful thing you can give another person is life.