3 Tips to Help you Stop Worrying About the Bachelor Party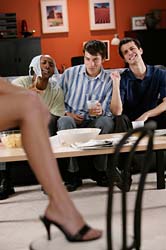 If you're a girl about to get hitched to the man you love, you may be worried about this one little thing: The Bachelor Party. Sure, you trust your man and you trust his friends, but you are still a little bit worried. You're worried that he and his friends might do something on the night of the party that contradicts the morals that the two of you hold dear. You're worried that he may do something that will make you question whether or not you even know him at all and whether or not he loves you at all. If you're worried, here are some tips I have:
1. Focus on your Bachelorette Party. If you're worried that your man is going to go overboard during his party, stop focusing on him! Focus on how much fun you and your girlfriends are going to have on your night out. Be bold and courageous with what you do and make sure you're excited about it so you don't have to spend your time thinking about his party.
2. Trust him. Even if your man ends up drinking too much or having dancers at a party, that doesn't mean he doesn't love you and it doesn't undermine his devotion to you. Write off the whole night as a guy's thing and be done with it.
3. You're about to be his wife. Remind yourself of that. No matter how crazy he gets during this one night, he's still marrying you the next day.