Tips for Announcing Your Wedding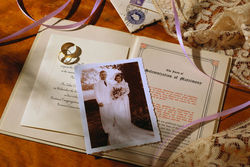 If you're certain that you've found the person that you want to spend the rest of your life with and you're now ready to marry that person, the next step is to let the people who you care about in your life know that you plan on bringing this person into your family and permanently into your social circle. This can be a huge announcement to make and therefore it should be worded carefully and though out thoroughly before hand. Here are some tips for your announcement:
1. Make a list of who needs to know.
2. Order printed announcements.
3. Make sure to include you and your spouse's last names and the date.
4. These cards are a way to let people know your new address and name, if it changed.
5. Be happy! Shout it to the hills. Even if you can't invite everyone to the wedding, tell everyone in your life about the new life you're starting!