Should You Have Pets at your Wedding?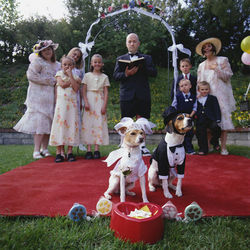 If you have a pet, you probably adore your pet. The same thing probably applies to your partner. Dealing with where to put your pet(s) on the big day can certainly be a point of stress. On one hand, it might seem as though bringing your pet to the wedding is absolutely taboo and not acceptable because of the possible damage a pet could cause to a venue, clothing, guests, etc.

But, and this may come to your surprise, pets are being incorporated into weddings more and more these days.

It makes sense though, right? If your dog is part of your life (and family), it makes sense that you would want the dog to be present during the wedding. A common trend lately is to let the ring bearer take care of the dog. The dog often is dressed up with the pillow tied around his neck and the ring secured into the pillow. Most dogs are totally able to do this - even under pressure!

Some churches and other venues will not be okay with this. Make sure that you check beforehand and if you need to, have an outdoor wedding to include your pet!