Tips for Picking a Wedding Dress Style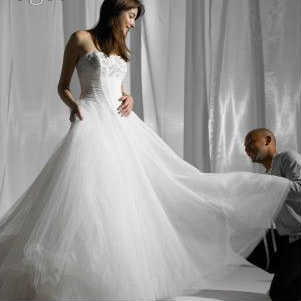 My guess is that you already know that wedding dress styles can display your personality quite vividly. The guests at your wedding likely already know you and have embraced your personality, but being able to express yourself through your wedding dress is always a goal.
There are lots of different wedding styles, but primarily, there are five main styles. The 5 basic traditional wedding dress styles are:
Ball Gown
Column
Mermaid
Princess
Empire
Even though we may like to pretend that they don't correlate to personality, these dresses do leave a certain impression on those who see you in them. For instance, I feel like the empire dress gives off a carefree hippie look. Mermaid dresses, on the other hand, frame the female body perfectly and have an incredibly sensual shape to them. The Ball Gown is extravagant and really creates that fairy tale look that a lot of girls dream about.
Meanwhile, the column is simplistically gorgeous and the princess is more standardly classic. Which one best suits you?
The key is to really think about your personality. If I were picking a dress for myself, it would surely be the mermaid or empire because those two styles match my personality the best.
Picking a style that doesn't match your personality will lead to all sorts of fashion clashes at the wedding. Go with your gut and pick something that naturally calls to you.