Tips For Fitting A Wedding Dress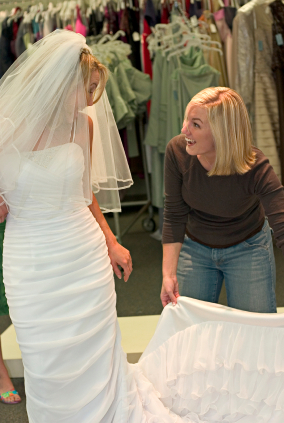 Getting a wedding dress to fit you perfectly is crucial, but that doesn't make it easy, per se. Some women struggle with finding their perfect dress for the big day and a lot of that struggle comes down to not know what to look for.
Questions to keep in mind:
What kind of body shape do you have?
What kind of fabrics work best for you?
What kind of colors work best for you?
What are your favorite current styles?
Do you have a trustworthy friend who you can bring shopping with you?
Knowing the answers to these questions will help to steer you in the right direction when searching for the perfect dress. Once you start narrowing down your choices, there are still important things to keep in mind and rules to follow.
Wear the shoes and undergarments you plan on wearing on the big day
Take a picture of you in the dress-this always helps!
Bring the jewelry you plan on wearing, or something very similar in style.
You'll likely need to schedule several fittings. Most brides-to-be have at least three fittings. The first fitting is when you figure out what needs to be adjusted with the dress. The second fitting is all about making sure that the adjustments have been made correctly. The third fitting should be when you clear up all kinks with the dress and bring your mother or maid of honor with you (or whoever will be helping you get dressed on the wedding day) so that she can make sure she understands the dress fully.
The most important thing you can do in a fitting: Speak up.
If something seems uncomfortable or wrong in any way, say something! You'll regret it later if you don't.