Tips For Planning a Cocktail Party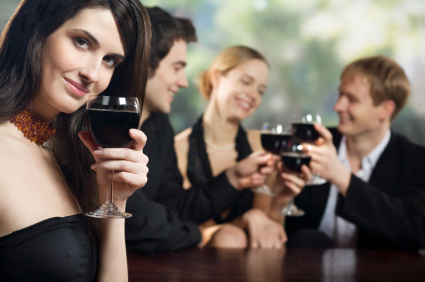 If you're a little in the dark about how to plan for your wedding celebrations, don't feel cornered: everyone feels in the dark about this at least once during their wedding planning. Luckily, I've got some tips for you below for cocktail parties that should help you square away some tough numbers with a bit more ease.
HOW TO KNOW HOW MANY DRINKS YOU'LL NEED
Most cocktail parties that last about three hours allow for about three or four drinks per person.
HOW MANY SERVINGS YOU'LL GET OUT OF A BOTTLE OF WINE, CHAMPAGNE, OR LIQUOR.
First, know how many guests you have attending. Then consider what your guest will favor drinking.
Then start your counting:
A bottle of wine yields 5 servings
A bottle of champagne yields 6 flute glasses
A case of champagne yields 72 servings
A 26 oz. bottle of liquor yields 17 servings
A 40 oz. bottle of liquor yields 25 servings.
You should also account for three bottles of mixers for every bottle of liquor.
WHAT YOU'LL NEED TO SET UP FOR THE BAR
11 pounds of ice cubes for every 10 adults
Common mixers: soda water, cola, ginger ale, lemon-lime soda, tonic water, tomato juice, orange juice, grapefruit juice, pineapple juice, cranberry juice
Other things you'll need: Worcestershire sauce, Tabasco sauce, salt, pepper, sugar, celery sticks, maraschino cherries.
Garnishes: olives, cocktail onions, sliced oranges and lemons
Tools: ice cube storage, corkscrew, bottle opener, can opener, ice tongs, shot glasses, sharp knife, long-handled spoon, cocktail napkins, toothpick