Tips for Preserving Your Wedding Dress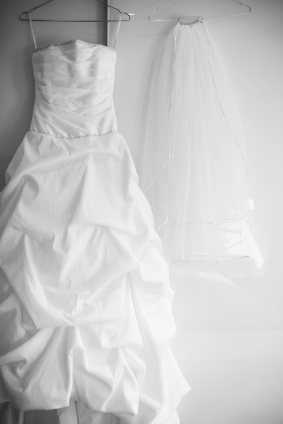 It's not like I have to tell you how important a wedding dress is to a bride. The wedding dress is the single most thought about dress in most married women's lives. Not only is it expensive in many cases and elegant, but it also carries sentimental weight that most dresses can't even touch. Yet, for whatever reason, most brides store their dresses away poorly after their weddings and leave them susceptible to dust and unnecessary damage. If you care about your dress, you should be concerned with preserving it.
Tips for preserving your wedding dress:
1. Have the dress treated professionally.
There are cleaning services that can and will prepare your dress for storage so that it can retain its color and condition. Make sure that you find an establishment that is reputable...after all, you don't want to leave your dress with just anyone, right?
2. Store it correctly.
Once your dress has been cleaned for storage, it's just as important that it is stored properly. It should be wrapped in acid-free tissue paper to minimize creasing. Avoid using cardboard. Carefully fold the gown and pack it away. Many places offer the above steps as part of their storage-preparation process, so if this sounds like a task you don't want to take on, try to find a cleaner who will also manage the actual storing of the dress.
3. Store it in the right kind of place.
The storage box should ideally be placed somewhere cool and well-ventilated. A dry closet or under the bed are safe bets. You want to make sure it is out of the way of heat, light, and humidity.
It may also be in your best interest to refold the gown every year or two as to avoid any permanent creasing.
If you're going to put so much thought into which wedding dress to buy and wear, you should make it last, right?