A Bridesmaid Dress for All Body Types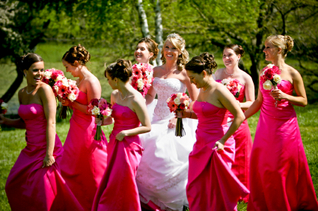 When you're picking dresses out for your bridesmaids, you have a lot of things to consider. From the colors and prices of the dresses, the last thing you might find yourself thinking about is whether or not the dresses will flatter the figures of your dearest ladies. But shouldn't this be something to consider? Shouldn't the most important ladies in your life look their best on your big day, too? Posing this question yields a follow-up question that leaves many answerless: Is there a type of dress that flatters all kinds of body shapes?
Certainly your lady-friends aren't all equipped with the same kind of body. Bless your heart if they are, but since this is improbable, finding a dress that will flatter everyone is important.
A-line dresses tend to flatter all figures the best. They'll look good on your thin friends but trim down your larger friends. One tip most professionals offer is to dress for the biggest girl. As in, find a style of dress that flatters the biggest girl first and foremost. Girls with trimmer figures will more than likely look good in more kinds of dresses than bigger girls.
Separates can also be a great idea for your bridesmaids. Allowing them to mix and match all sorts of styles will yield a flattering fit for everyone.
Outside of the shape of the dress, it's safe to assume that darker colors are more flattering to just about everyone. They make everyone look smaller. My advice is to find a dark color that matches your wedding theme and go with that.