How To Take Unique Wedding Photos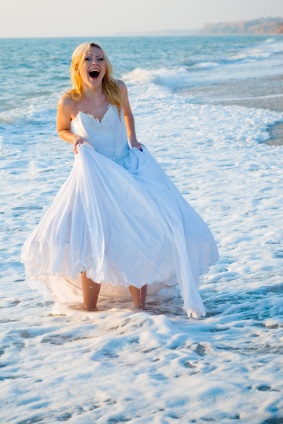 Taking photographs is an essential (and obvious) element to every wedding. But not all photographs have to be traditional.
John Michael Cooper, a Las Vegas photographer is doing what he calls "Trash the Dress." Cooper started a wave of non-traditional photographs of the bride in gritty locations doing things that most brides would never dream of doing, like splashing in fountains or playing a sport.
Obviously these photos are taken after the wedding, when the condition and cleanliness of the dress is not so much of an issue. Most married couples have pictures of themselves with their wedding party, but if the bride and groom are huge football fans, wouldn't it be more memorable to have a picture of the wedding party playing football with the bride catching a touchdown ball?
Some brides would be horrified to get their dress dirty, but after the wedding is over, you get to put the dress back on and have some fun! Unconventional photographs can give a bride and groom the chance to express themselves on one of the most important days of their lives.
---
If you're looking for a great accessory for your bridesmaids, look no further than this pretty Pearl Bracelet.