Tips for Picking Out Your Favorite Wedding Photos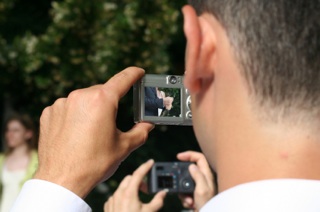 Most brides end up with (literally) thousands of photos from their wedding. Besides the photos from your photographer, other people at your wedding are probably snapping shots of things you may never think to photograph. Assign someone who will be at your wedding, maybe a member of the bridal party or a relative, to set up a photo sharing account that allows users to upload their own photos. Have that person give the web address to everyone they see at the wedding with a camera, so that there will be a central location for all of the photos.
After all the photos are uploaded, pick out some of your favorites. Instead of pulling out a bulky wedding album to show your friends and family, show a few select photos that capture moments that are important to you and your guests. If you select a photo that a guest has taken, consider framing it and giving it to them as a gift as a thank you. Knowing that they made your special day a little brighter will make them feel even more special.
A fun wedding idea is to put disposable cameras on the tables at your reception. Encourage guests to share the camera and take pictures of anything they like. After the wedding when you have the photos developed, you may be surprised at what you get!