What You Should Know About Choosing a Flower Girl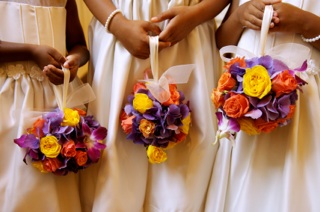 One important member of your wedding party that is often overlooked is the flower girl. Maybe it's the thought that spring is almost here, but let's look at what you can do to make your flower girl an essential part of your bouquet.
A flower girl is a traditional part of a wedding, a girl four to eight years old that the bride or groom knows or is related to, who walks down the aisle right after the bridesmaids. The flower girl (and ring bearer) usually contribute a fair amount of cuteness and levity to the ceremony.
A good rule is to have one of your bridesmaids look after your little flower girl. It is one less thing that you need to worry about. Make sure that they will dress them (if necessary,) tend to them during the ceremony and then get them back to their parents. Having a "buddy" for your flower girl will help calm her down and make things go a lot smoother.
What should your flower girl wear? A flower girl's dress should mimic the bridesmaid dresses. The colors should coordinate and the style should be age appropriate. Longer dresses will be easier for older girls. Here are some really cute dresses that can easily be coordinated with bridesmaid dresses.
When it comes down to it, your flower girl will add something special to your wedding. If you can't choose between 2 or 3 girls, put them all in! But make sure you don't get too hung up on making sure everything is perfect. Give your flower girl room to grow, and if she makes a mistake, your guests will think it is adorable.