3 Beauty Tips for Your Summer Wedding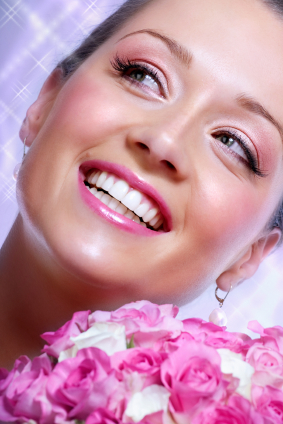 A June bride can be a glorious sight. But makeup meltdowns can ruin that wedding day glow. Here's how to face your big day with flawless style.
Skin is in
Use a very sheer foundation over well-moisturized skin. Even if you have a perfect complexion it will smooth out your facial tone and provide a base for your makeup.
Apply concealer sparingly around the nose, under the eyes or on any tiny blemishes. Then whisk lightly with a sheer powder to set. Remember, less is more. Use powder with a very light hand.
Keep blotting papers in your bridal handbag. Use them, instead of powder, on your big day to avoid a cakey look.
Eye lights
Dot foundation on lids before you apply shadows. This will help your makeup last throughout the day.
Avoid eye pencils and shadows that are greasy. They will crease and smudge in no time at all.
Use waterproof mascara. This will guarantee that your tears of joy look beautiful, not smeared.
Apply a light shimmery shade in gold to the corner of eyes or the center of lids. Your eyes will pop and look bright and beautifull all day long.
Lip service
To make lipstick last longer apply, blot and repeat. Do this two or three times to build the intensity of color.
Go for moist, timeless lips. Too much gloss will make your wedding day smile look goopy, not gorgeous.
Avoid brown-toned lipsticks. These shades look muddy in photographs. Instead, opt for sheer shades of peach, pink and red for a breathtaking smile.