Wedding Gown Specialists Offer Wedding Gown Preservation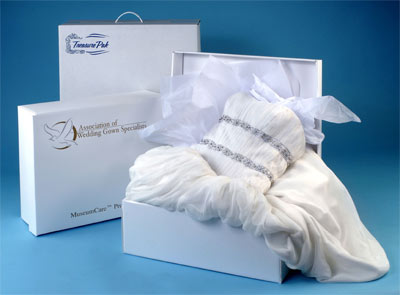 PRESS RELEASE - The Association of Wedding Gown Specialists, an international organization of drycleaners who specialize in gown cleaning,
restoration, and preservation, has partnered with Carbonfund.org to offer brides the option of carbon-neutral gown cleaning and preservation. "More brides than ever are concerned about their carbon footprints," Kermit Engh, Association president, said, "and brides now can ensure the beauty of their wedding gowns and help safeguard the planet's future, too."
"Carbonfund.org, the leading nonprofit carbon offset and climate solutions organization, has calculated the carbon dioxide emissions generated by cleaning and preserving wedding gowns," said Engh, "and brides can make a donation through members of the Association to offset them. We asked Carbonfund.org to estimate everything from the bride's trip to and from the cleaner to the cleaning procedures to the wedding chest's manufacture. Then we increased the total still more to be certain the bride's donation will account for the carbon footprint no matter what solvent our Association member uses or how far the bride has to travel. The donation included in the price of our ZeroCarbonTM wedding gown preservations assures the bride her preservation will be truly carbon-neutral, and 100 percent of her donation goes to Carbonfund.org." (ZeroCarbonTM is a trademark of Carbonfund.org.)

Eric Carlson, Carbonfund.org president, said, "We are excited to work with the Association of Wedding Gown Specialists to spread the message that global warming affects all of us, and we can all be part of the solution by reducing and offsetting our carbon footprint. The ZeroCarbonTM wedding gown preservations are an important and innovative way for any bride to protect her gown while helping the environment and supporting the highest quality carbon reduction projects in the world."

Donations to Carbonfund.org support global renewable energy, energy efficiency, and reforestation projects that reduce carbon dioxide emissions. All Carbonfund.org projects are independently verified to the highest certification standards. The nonprofit organization provides individual and business offsetting options. Brides who are interested in calculating the entire wedding's carbon footprint can find a carbon calculator at www.carbonfund.org/weddings.

Members of the Association, a not-for-profit trade group with members in the United States, Canada, Australia, and South America also work to reduce carbon emissions by recycling, conserving energy, and, in general,
setting standards to protect the environment. Brides can find the nearest specialist at the Association's website www.WeddingGownSpecialists.com. Each member honors the preservation guarantee of every other member, which includes taking the gown out of the container and pressing it at no charge when the gown is to be worn again. More than 70 specialty gown designers and manufacturers recommend the Association's preservations, which are also Endorsed by the Association of Bridal Consultants, the organization dedicated to wedding professionals worldwide.