How to Find the Best Wedding Dress for your Shape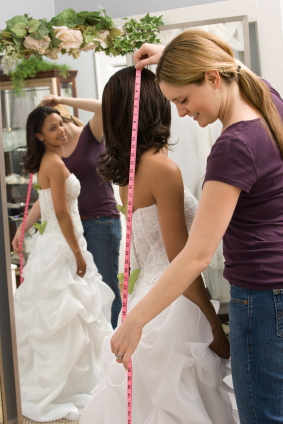 From brides to bridesmaids, choosing the right dress begins with understanding your figure. Remember, what looks great on some celebrity may turn out to be less flattering on you. But don't be discouraged. Knowing your strong points is the key to great wedding day style.
Hourglass 101
Shapely women can be a sight to behold walking down the aisle, especially if they follow these simple rules:
Go light on the cleavage: If you do opt for a classic strapless gown make sure you wear a good support bra for a nice, lifted look.
Hot halter: Curvier women with a larger bust will love this neckline. A plunging halter does wonders to elongate the neck and lift the bust line.
Ban belts: Remember, long and lean is the key. Belts may be hot this season but they cut curvier women in half.
Small wonders
Petite woman may crave a dress that's full of high-drama. But beware of gowns that are too elaborate. Instead:
Opt for a trumpet style that hugs the body then flares out towards the floor. The look is dramatic without being overpowering.
Go strapless or choose a plunging V-neck style. These styles show more skin near your face and put the focus on you, not the dress.
Plush and pretty
Wedding day bliss might seem harder to achieve if you're struggling to lose a few pounds. Don't worry. Brides and bridesmaids can look stunning with these simple sleights of hand:
Opt for flowing fabrics like silk chiffon or charmeuse that graze the body without being too clingy.
Make the Empire-styled wedding dress your new best friend. With its high waist that hits just below the bustline Empire cuts fall beautifully in soft folds to the floor. Think "Sense and Sensibility" for the 21st century and say hello to an Empire worth knowing.