3 Tips To Keep Your Groom's Tux in Style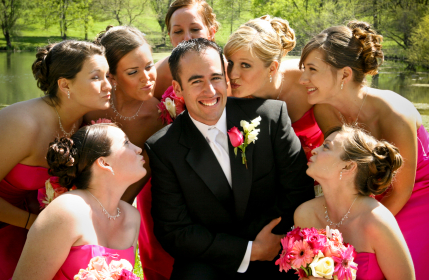 Finding the right wedding formalwear begins with a plan. Colors, theme, price points, cuts...It all comes into play for brides and grooms when they choose their wedding day attire.
Yet for many men the thought of choosing a tux for their walk down the aisle can make them panic.
Relax. With these simple tips you can help your groom pick the perfect tux and truly look like the man of your dreams on your big day.
Theme and location
Make sure the fabric, cut and color of your tux takes all these factors into consideration, as well as the time of day for your wedding.
Great tux style
A groom's tux has to reflect his personality. But it also has to say something about you as a couple.
If you're a traditional couple going for a big church wedding opt for a classic tux or tails.
Do you embrace a bit of an edge in your wardrobe and surroundings? Then choose a one-button tux accented by a stylish Euro tie and matching vest.
Still unsure? When in doubt, go for a timeless two-button tux with a peak lapel.
Color story
Having an ultra formal wedding? If so, elegant shades of black and silver are excellent choices for your groom's perfect tux pick.
Not sure what to choose for accents? No problem. Let the color of your flowers pop up in vests and ties for your groom and his groomsmen. Little color details like these will give any bridal party a strong, beautiful, cohesive feel as they walk down the aisle.