How to Plan a One Hit Wonder Bridal Salon Experience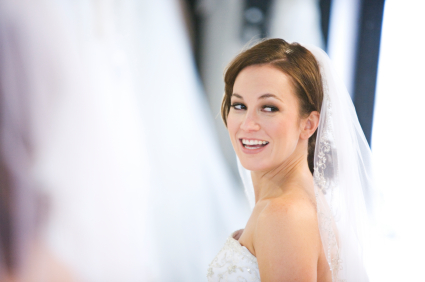 At first glance it may seem that your dress defines your wedding look. But that visual impression begins with your choice of bridal salon.
Full service: These two words sum up everything should be looking for in your salon of choice. With these tips you'll shop like a pro for the gown of your dreams.
Range rover
Always look for a salon that has a good range of well-known bridal gown designers.
Perfect fit
Once you meet your bridal consultant make sure they understand fit and know the right way to measure a bride for her gown.
Fabric matters
A bridal consultant has to have a good understanding of fabrics. For example, how will the fabric hang? How will it handle creasing? How will it sustain its crispness throughout your wedding day?
Under cover
Choose a bridal salon that offers solid advice about under-garments. Your consultant should also be an expert when it comes to appropriate bras or other special support items your particular dress will require.
Seamless perfection
Look for a bridal salon that has an experienced seamstress on hand. You will need a real pro to make any adjustments to your dress when it arrives.
Well heeled
Always have a gown fitted when you are wearing your bridal shoes or shoes with exactly the same heel height.
Veiled matters
Whatever your veil choice, your salon consultant should always take into account the hairstyle you will wear on your big day.
Perfect jewel
A full-service bridal salon should always offer great advice about the jewellery options that will work best with your dress.