Color Me Gorgeous: Trendy Bridesmaid Colors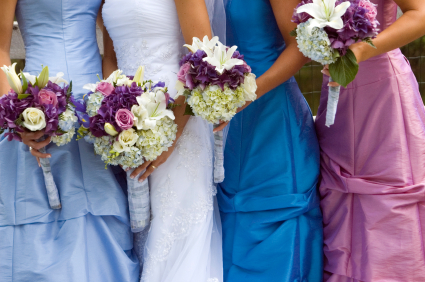 There's a bright side to bridesmaid dresses this season. Soft blush, petunia red, periwinkle, electric blue...These striking hues make a bold bridal party statement. But the trick to making these saturdated tones shine is pairing them with perfect accent colors.
Purple reign
Violet, periwinkle, acquamarine and electric clues are lighting up the best bridal parties this season. Available in just the right cool hue to suit all your bridesmaids, this year's best purple-toned gowns come in Jackie O cocktail lengths. You'll find them in empire-cut gowns with assymetric neck details. Whatever you choose pump up the glam factor with cool silver accents.
Jeweled stilettos, drop-dead gorgeous chandelier earrings, cool metallic clutches...Dramatic silver accessories give "blue-girl" bridesmaids some fine heavy metal to play with.
Red, she said
Coming in a variety of sizzling shades, the red bridesmaid dress has come a long way in 2009. Grecian column dresses, short strapless cocktail lnumbers, one-shoulder gowns...You'll find these hot styles in red, coral and blush hues to suit every bridesmaid.
Gold makes the perfect complement to a dramatic red color palette. Whether it's a charming clutch, sexy, strappy sandals or bold bling, go for the gold and color your gal-pals happy on your big day.