Luxe Tux: 5 tips for a Glam Groom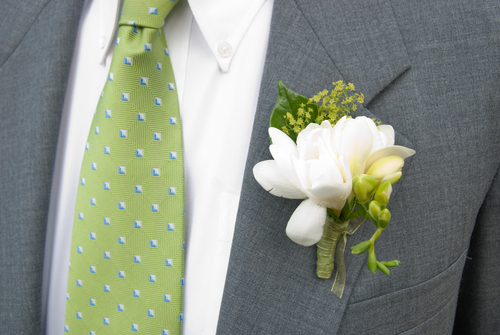 Every bride wants to look like a dream on her wedding day. But grooms, too, should look just as dreamy. These five head-to-toe tux tips give every groom the chance to indulge in great style.
Fit is it
Finding the perfect-fitting tuxedo might seem like searching for a needle in a haystack. But good fit is always the hallmark of a wedding day winner. A properly fitted tuxedo jacket should lie smoothly from shoulder to shoulder across the back. There should also be enough room to move comfortably.
Shape it up
The right tuxedo jacket should taper slightly at the waist and drape comfortably to the hip. Grooms should button their jacket during a fitting to inspect the shape and check that lapels lie perfectly flat.
Pant perfection
Flat-front trousers with a slim cut through the leg are a great pick for men that are tall and slender. A heavier-set groom should opt for relaxed fit of a traditional pleated pant. In either case make sure that the pant crease crosses the middle of the knee and that the pants lie flat against the leg.
Shirt tales
Find the perfect dress shirt with this simple trick. Have your groom button the shirt to the top and then try to slip a forefinger between the shirt's collar and his neck. If he cannot squeeze a finger into the space the shirt is too small. If he can place two fingers between the fabric and his neck the shirt is too big.
Fab footwear
Great shoes are the finishing touch to a groom's wedding day look. Black shoes are the perfect match for black pants. Go for tan shoes with tan pants. Bring shoes to fittings to ensure the pants are altered to fall to just the right length.
---
Check out the men's tuxedos and formal accessories.