4 Shimmering Eyeshadows to Complement Your Fall Wedding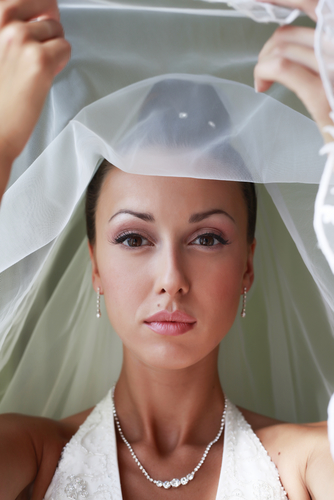 Fall's fresh new shimmering eyeshadows are the perfect finishing touch to any bridal day look. Sheer yet dramatic, these rich, intense fall eyeshadows will keep all eyes on you as you say "I do!"
Diamond dust
The perfect complement to a brand new diamond wedding band, this season's iridescent shades of platinum and gunmetal give the eyes a sweet, sophisticated touch of shine. Dotted in the inner corner of the eyes, over the lid or under the brow, this shimmery effect gives any bride's gaze extra sparkle.
Green team
Rich, gem-tone shades of green are a strong beauty pick for Fall 09. But the trick to making this beauty statement work is to keep cheeks, lips and the overall finish to your face soft and neutral.
Deep purple
This season's pretty, sophisticated shades of purple bring added intensity to all eye colors. From sheer washes of candy-purple to delicate dustings of rich violet, this bridal style pick packs loads of subtle punch.
Blue belle
Every bride should wear something blue on her wedding day. Fall's dramatic new blue eyeshadows bring a fresh dose of modernity to that tradition. Vastly different from what your mother once wore 2009's sheer, delicate hues of indigo, electric blue, deep navy and turquoise bring any beautiful bride's eyes to life.