Fall's Latest Bridal Trend: Wedding Dress Bling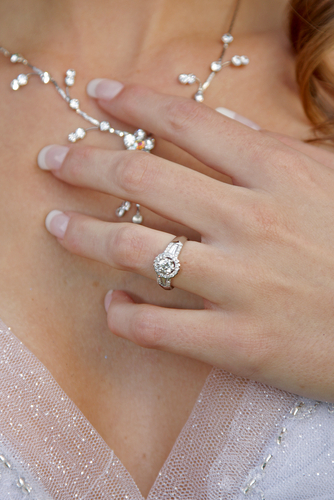 Jewel accents are giving wedding gowns and bridesmaid dresses a new, sophisticated dose of bling for Fall 09. Just pick your jewel size and let the shine fest begin.
Neckline news
Chunky gem trim around a gown's neckline makes a strong style statement this season. Think of crystal-embellished scoop necklines or halter styles studded with hot rocks and pearls. Whether your choose platinum-hued stones or jewel trim in bright hues, go big, go bold and grab that wedding day spotlight.
Waist away
Strategically placed stones, beads or crystals that fall just below the bust area can create the illusion of a small waist. Look for accents like these on satin gowns that fall close to the body and use gem accents to create a strong point of visual interest.
Gem game
Head to toe gem accents add the final touch of old Hollywood glam to your wedding party. Add to that princess-for-a-day vibe by wearing a crystal beaded tiara. Walk down the aisle in crystal-studded pumps. Or stash your lipstick in a great crystal-covered clutch. Let all your wedding day accessories reflect the tone of your day and help you get your shine on.