How to Stay Warm at a Winter Wedding: Stylish Bridal Jackets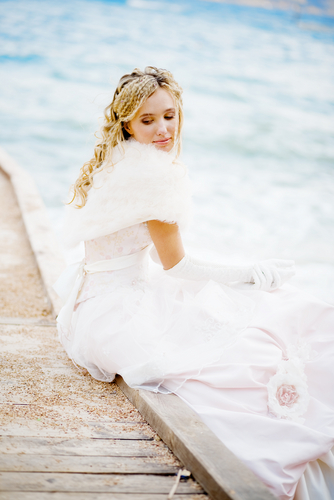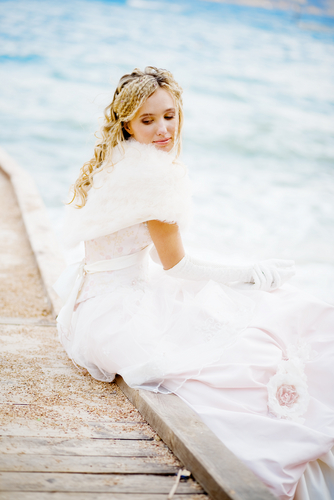 The long-ago stole is making a fresh, new comeback for Winter 2010. But, this incarnation is not from your granny's closet.
From sheer, flowy chiffon capes to sweet little lace sweaters and '60s-inspired coats, these new toppers are fun, functional, yet full of all the show-stopping style any bride would want walking down the aisle on a cold winter's day.
Will they take away from that gorgeous strapless gown I'm wearing? Won't it bulk me up and make me look like a kid coming home from a costume party rather than my wedding?
Many brides will ask these questions and more. But, look at what designers like Monique L'huillier, Carolina Herrera and others are doing for Winter 2010. You'll see that these cool-weather cover-ups are meant to accent your overall look, not appear like a last-minute throw-on your granny tossed your way.
Top this!
Go for a long, sheer, floor-length topper over a spectacular strapless gown. Try a classic cashmere sweater over a short little cocktail-style bridal gown or bridesmaid dress. Slip on this season's more elaborate cover-ups full of dramatic collar pleats and big, structured sleeves.
Finally, girls who love a retro vibe can sport a cool new bridal coat. Think of Jackie O or Mia Farrow from their '60s-heyday. That's the kind of  classic, hipster haute to embrace this season.
Remember, weather conditions do play a part in any winter wedding.  With these hot new winter wraps you can brave the weather and put a super-functional, ultra-sophisto final touch on your wedding-day look.
UPDATE: Also worth considering .... Dessy's pashmina wraps!