5 Tips for a Fashionable Budget Friendly Wedding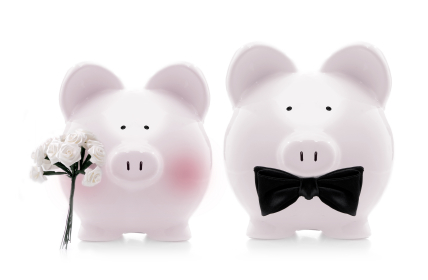 A cheap wedding? No my dear, it's economy friendly. And make no mistake about it, a budget wedding can be gorgeous. All it takes is a little creativity and a little help from our friends.
Don't believe me? Ye of little faith!
Have a gander at these top budget wedding ideas that are sure to inspire you:
1. For those of you who want to create your own personal invitations without the hassle, search through the handwritten fonts at Dafont. If you would rather keep it a little less personal and more chic professional, check out 983wedding for free templates. Another good free template site is Designbetty. I think they give a good selection with a lot of varying styles for us girls to show a bit of personality in our invites.
2. Can't decide on catered apps? My DIY Wedding Day will show you how to make a candied apple bar with sticks made of, well, sticks! You can't find that in any ordering catalogue.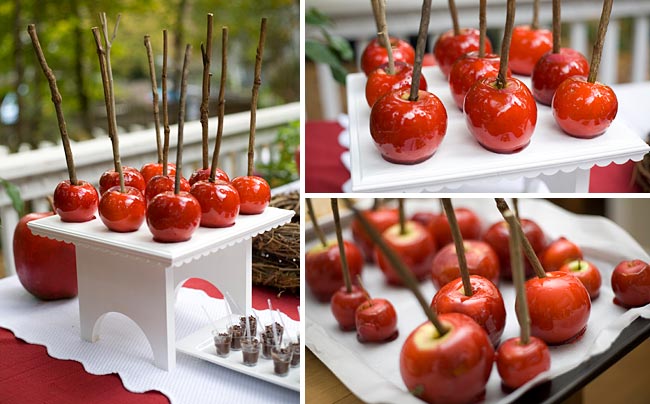 3. Make decorations out of rock candy. Yes, you heard me right. Oncewed has enlightened us with instructions to make these surprisingly glam chandeliers.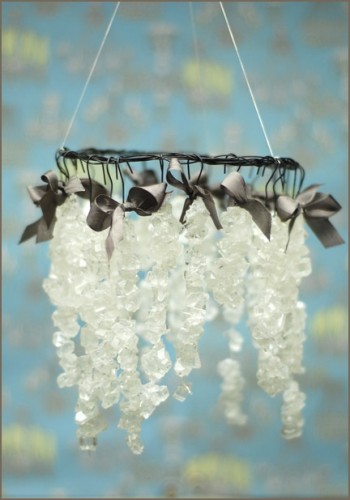 4. Still need more hands on decorations? Try using old glass jars and bottles as your vases for your centerpieces. A little glue and fab bright colored fabrics go a long way in creating some vibrant talked about pieces.
5. For even more DIY ideas sure to inspire you budget savvy ladies, take a few minutes to ponder at stylisheventsblog for loads of creative and fun ideas.
The personal touch of creating some of your own details can bring all sorts of charm and uniqueness to your big day. After all, saving a little extra dough to splurge on your dream dress and honeymoon sounds at least a little tempting doesn't it? I thought so.
You see? Having a little faith can be good for you (and your pocketbook).
Apple candy photography by Jason Dail, Rock candy project by Laurie Cinotto