Customized Eco-Friendly Wedding Rings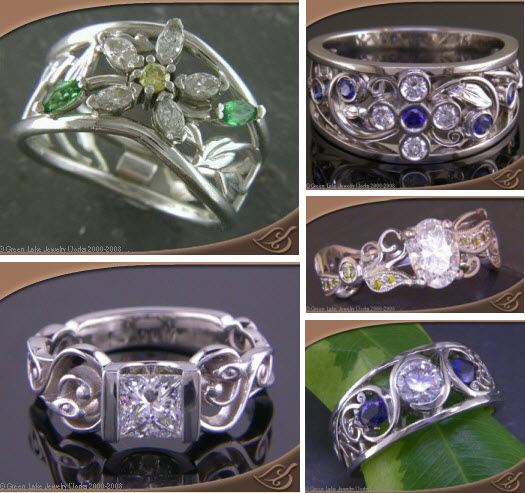 Recently engaged? What an exciting, grateful, happy and busy time! One of the most important choices when it comes to preparing to making your commitment, is the symbol of it. Your wedding ring is a daily reminder of what you and your love mean to each other and the lifelong promise made on your wedding day. When looking down on your left ring finger for many years to come, you should see the ring that makes you smile!
One of my favorite jewelers to fill this giant role is
Green Lake Jewelry
. Their custom designs are absolutely beautiful! Seriously, some of the best I've seen. They have an online design page where you can easily custom create the perfect ring. You can add your own images, use their images, choose a setting and even create your own wedding planning page and invite family and friends to look at your creation. Here are a few of my favorites from their customized ring library.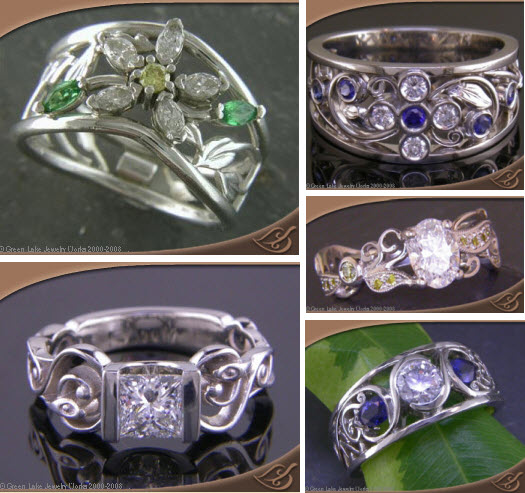 'Beauty for People Who Want to Change the World'-this is the motto that
Artisan Wedding Rings
upholds. Their designer wedding rings are produced by American artisans and made with fair trade 100% recycled precious metal. They pride themselves on providing ethically sourced diamonds and gemstones. You can read more about their practices at
artisanweddingrings.com
. In the mean time, look at some of their lovely creations.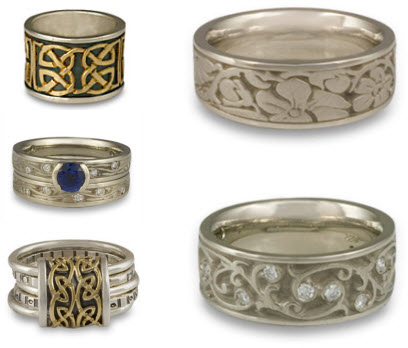 At
Krikawa
they make it easy to co-create wedding ring art wear that is uniquely you. They offer one-on-one deigin sessions at their studio in Tucson, Arizona. However, if you can't make it there don't worry! They'll work with you no matter where you live as they have worldwide personal service using email, phone, IM, and video conferencing. Talk about personal service! A few of my favorites are below.