Five DIY Budget Wedding Ideas
Today, I've got five quick tips to make your wedding budget stretch further. (Without compromising on style.)

1. Buy a plain tiered cake in white and decorate it yourself. You can do this with ribbons or try a butterfly cake decoration set. I think this tiered cake from Marks & Spencer would be a good choice, available as a fruit cake or a sponge. Or of course, there's nothing to stop you or a clever friend/relative from baking a cake yourself!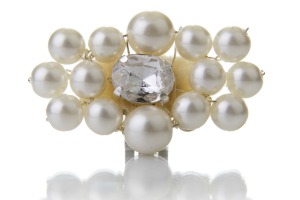 2. Jazz up a simple pair of court shoes with some eyecatching shoe clips. I like these pearl buckle shoe clips from Rachel Simpson shoes. For £45 they'll make an inexpensive pair of bridal shoes look Bond Street rather than High Street.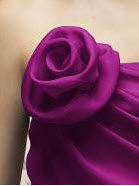 3. Accessorise, accessorise. Add a colour accent or interest to a plain bridesmaid's dress with fabric flowers.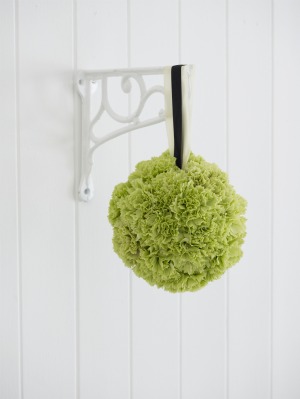 4. Make carnation wedding pomanders for your bridesmaids to carry and to decorate your wedding reception venue. They're easy to DIY with full instructions here. These are made from green carnations but of course you could use pink, red or purple or what about classic rosebuds?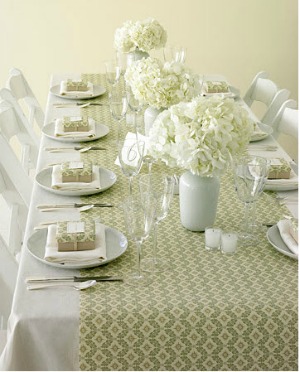 5. Decorate your tables with wrapping paper table runners. (A great idea I saw on the Martha Stewart Weddings website). Or you could use wallpaper for that matter. An imaginative way to add a stylish and individual touch to your wedding reception tables and of course, you can match just about any colour you want.

These are just a few budget wedding ideas to be thinking about.

(Photograph of table runner via Martha Stewart weddings.)