Catering your wedding on a budget? Here are some inspired ideas!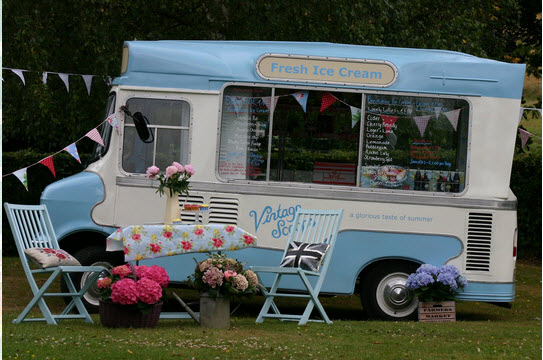 If you're looking to cater your wedding on a budget but still want to offer your guests delicious food, what are your options?
A sit-down dinner at your reception is very elegant but it won't be inexpensive, and you won't want to cut corners.
So, here's an idea. Why not have a selection of mobile caterers, like the fabulous vintage-style Vintage Scoops ice cream van shown above?
If you're going the handmade, DIY wedding sort of route, this option will blend in perfectly. Particularly if you're getting married in warmer weather or hosting the party in a marquee in the garden. It's also a great way of feeding kids who usually LOVE ice cream and chips (of which more later).
Now, what about these?
A Mobile Ice Cream Van For Your Wedding Guests
Firstly, we have Vintage Scoops - the beautifully decorated ice cream van seen above, complete with gingham bunting, floral tableclothes and fabulous, fabulous ice creams from a dairy farm. Although there are masses of ice cream flavours to choose from like Champagne Sorbet and Pimms and Lemonade, Vintage Scoops can also create a flavour just for your wedding. How's that for personal service? Soft drinks in traditional glass bottles are also served, like Cloudy Lemonade and Dandelion & Burdock.
French-style Crepes Anyone?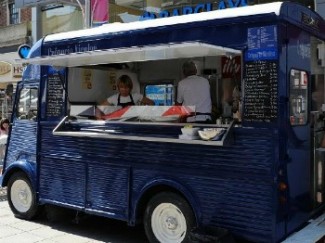 If you're looking for something a little more substantial to feed your guests, with a savoury option, you could try Creperie Nicolas. As they say, it's "A little bit of France brought to your doorstep". Basically, a classic navy Citroen van arrives at your venue and serves your guests with delicious French crepes and Breton galettes - both sweet and savoury - and aromatic Italian coffee.
It'll add a great feature to your wedding and make for wonderful pictures.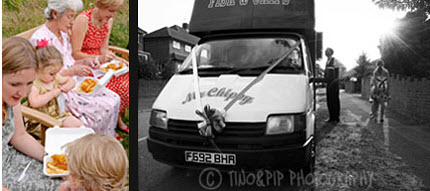 If you'd like something really traditional and very substantial, then a wedding fish and chip van always raises a smile. Several companies around the country offer this service and it always goes down a treat (but keeps your expenses down too).
You could also offer a hog roast at your reception. A hog roast with accompanying ice cream van might be just perfect!
So, with a little imagination and research, it's quite possible to stick to your catering budget and create mouthwatering menu options for your guests that will be a talking point long after your big day. Have fun! If you catered your wedding in any of these ways, I'd love to hear from you.