How to Keep Children Entertained at a Wedding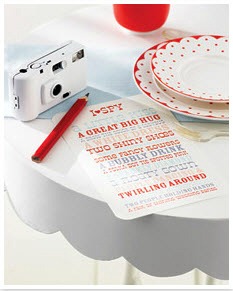 Here's an easy way to keep children entertained at your wedding. All you'll need is a disposable camera, a pencil and this downloadable card. It's a bit like a scavenger hunt, but with a camera.
Basically, your young guests must photograph everything that's shown on the card to be the winner. It's bound to keep them occupied for quite some while.
I discovered this idea via the Martha Stewart Weddings website where you'll find full instructions and the downloadable card.
Image courtesy Martha Stewart Weddings.