Using flower bulbs as table decorations for a winter wedding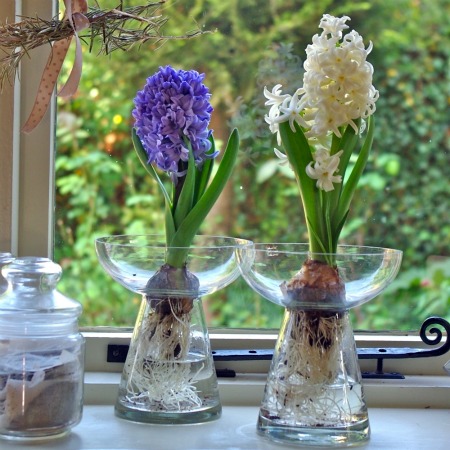 If you're planning a winter wedding and looking for some inexpensive table decoration ideas, then you should investigate the potential of flower bulbs, particularly scented hyacinths like these shown above.
Easy for a Homemade Wedding
Right now in autumn is the perfect time to plant bulbs in pots inside, to 'force' them into flower during the dark winter months.
You could use a variety of bulbs - perhaps my most favourite would be hyacinths which come in rich blues, vibrant pinks and paper snow whites. Hyacinths also have the most wonderful scent and your guests could take the flowers home as favours afterwards.
Growing hyacinths in a glass vase like these here is really easy (see these instructions). Get your timing right and you'll have a fragrant display of pinks, purples and whites on your wedding tables. I discovered the glass vases shown here on the Ella James website.
You'll find a variety of bulbs available by mail order. Think about how you're going to use them to complement your colour scheme too.