Real life bridesmaids in convertible dresses by Dessy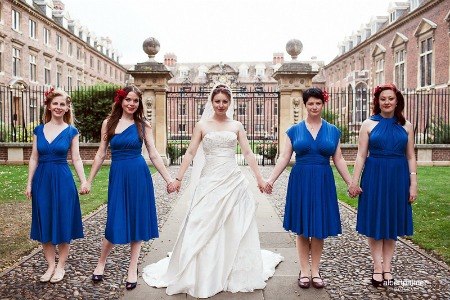 Four different bridesmaids - four different looks.
This photograph of Holly's wedding to Alex features her bridesmaids in convertible dresses by Dessy and shows off the frock's versatility and appeal to PERFECTION!
Bridesmaids LOVE convertible dresses, like the Dessy Twist Wrap dress. Why?
They can choose a neckline style that plays to their best features
They feel they're wearing a bridesmaid dress that's individual and flattering
They can change the 'look' to move from afternoon to evening
The dress comes in 20 very appealing colours
Available in cocktail length or long and flowing
Beautifully made in jersey
Travels well and takes up very little suitcase space
The Dessy Twist Wrap convertible dress is a frock your maids will want to wear again and again, not just on your big day.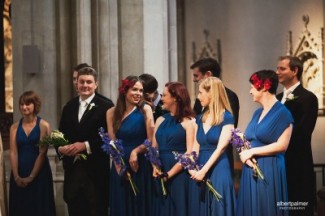 I'll be covering Alex and Holly's wedding in full tomorrow. It's a beauty. Picturesque views of cobbled Cambridge streeets and historic colleges, handsome groomsmen, and some quirky backdrops too. Have a look at this fairytale wedding in Cornwall that photographer Alex shared with us.
Photographs shown here by Albert Palmer.