Why you might want a 'Toss Bouquet' for your wedding day
We've all been there. The moment at the end of a wedding reception where the girls keenly gather round, waiting for the bride to throw her bouquet into the air behind her.
Of course, you probably know that the superstition is that the catcher becomes the next bride.
It's a fun tradition but the downside is that you don't get to hang onto your beautiful bridal flowers and you really want to.
So what you need to do is have what's known as a 'toss bouquet' which stands in for your real wedding bouquet. Get your florist to make up a bouquet that's similar to yours in colour (you probably won't want to invest quite so much in it) and then you can throw that away gaily, while your own precious flowers stay safe.
Alternatively you can make your own hand-tied toss bouquet by following these simple instructions by The Wild Bride. (Or ask a good friend of yours who is artistic - she might end up wanting to catch the toss bouquet herself!)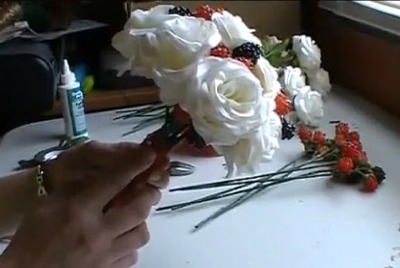 Credits: Photograph of bride holding wedding bouquet by Levi Stolove. Blog post via Grey Likes Weddings.