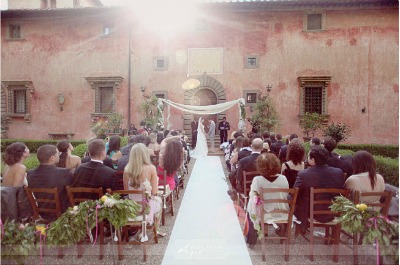 Romantic, dreamy and beautiful. This wedding in Italy is in the most stunning setting in the countryside, complete with medieval buildings, balmy sunshine and a glorious outdoor wedding reception setting.
I love the lemon garlands decorating the aisle chairs and the gardens. The al-fresco style reception looks so pretty and inviting. I am sure everybody was sitting chatting and enjoying themselves until long after the sun had gone down.
The bride chose her wedding flowers perfectly - peony bridal bouquets are one of my favourites. And what do you think of the vintage-style place settings? Delicate chintz china with a simple cork creating a name place. What a simple and effective idea to recreate on your own big day.
If you're thinking about marrying abroad, Italy offers some dazzling wedding venues and there are some very competitive offers available. Whether you get married in an Italian villa like this, or possibly in a hotel, there are a whole host of choices and locations and of course, you're almost certain to enjoy beautiful weather.
Photography by Simply Bloom Photography.