Some wedding food ideas that are a little less formal but still very chic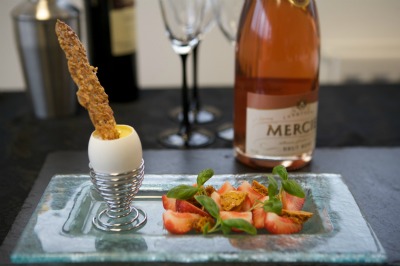 So what are the up and coming trends this year for wedding food? What delicious new ideas can you offer your guests?
Well, apparently formal sit-down meals are out - this year it's all about informal dining, according to John Hearn, Executive Chef of Tapenade, who has shared his hints and tips for entertaining.

1. Relax and enjoy! Informal dining options such as buffets, bowl food and rustic platters are shaping up to be hot this year. These all give guests the freedom to move around and enjoy proceedings, making for a more relaxed atmosphere. Remember, the key is to include a good mix of meat, fish and vegetarian options to accommodate all guests. Think of dishes like slow cooked rump of lamb with red onion and cardamom, honey roasted pumpkin and toasted seeds; roasted red snapper with walnut and coriander potatoes; sliced chicken simmered in coconut with lime chilli, coriander and lemongrass with sticky rice.

2. Retro food chic. Reinvent classic dishes and pay homage to your childhood favourites. Think pie & mash, mini sirloin hamburgers, bangers and mash, or fish and chips.

3. Opt for dessert tables or platters with an array of miniatures! Smatterings of your favourites such as cupcakes, mini cheesecakes, dainty trifles, chocolate brownies or crumble will allow guests to tuck in.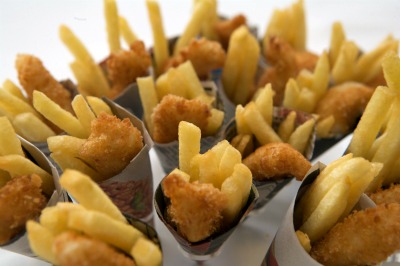 4. Make your menu original with canapés €" offering them as a starter or dessert adds a fresh twist and provides a good talking point for guests. Think newspaper cones of fish and chips, miniature steak and chips with a warm horseradish cream, or tiramisu chocolate cups and miniature ice cream cones.

5. Have breakfast! For a novel menu idea, why not serve an actual €˜wedding breakfast'? A beautifully served full English with locally sourced produce, fresh orange juice or fruit to start and pancakes or waffles for dessert. This is a great way for couples to give their guests a unique experience and works particularly well for weddings held earlier in the day.



Thanks for the great wedding food ideas! Enjoy your planning!

All photography via Tapenade