What shoes should you wear with your wedding dress?
Today I'm thinking wedding shoes. Because it's just so important to get them right. What you wear on your feet on your big day is crucial.

Your wedding shoes need to look beautiful and complement your bridal gown. Obviously. But you'll also need to be able to glide along the aisle gracefully in them and feel comfortable at the end of a long day - with no blisters or pinched toes to make you wince.

And let it be said, that taking off your shoes is not really an elegant, sophisticated 'look' - unless of course you're at a beach wedding, which is entirely different.

So with this in mind, I asked master shoe designer Joseph Azagury for his hints and tips on footwear for brides. Here's what he told me.

What type of shoes should a bride wear with a floor length gown?

J: Always high heels

How can I make sure my shoes are comfortable to wear on my wedding day?

J: Firstly make sure your shoes are well balanced. They should be comfortable the first time you try them on in the shop. If they are a little tight, wear them once or twice at home before the wedding but make sure you are on a carpet or floor that is free of dust to avoid getting your wedding heels dirty.

What's the secret of walking smoothly in heels?

J: Walk slowly, keeping your back straight.

What style of shoes look good with a cocktail-style wedding dress?

J: High, maybe with a platform. Crystal details look good, but make sure that the shoes do not overpower the dress - they should complement it.
And what sort of shoes should be worn with a traditional, long wedding dress?

J: Very simple courts or sling backs. Opt for a slim toe shape and heels. The higher the better, but not platforms.

What about if the bride is wearing a column-style dress?

J: Go for simple styling, possibly with pearl detail or feather/fur for a winter wedding

What about bridesmaids' shoes?

J: The bride should be the main focus of attention, so maybe try to wear lower heels. In terms of styling, the shoes should still be in keeping with the style of the bride's.

What are your predictions for shoe styles for 2012?

J: High, narrow toe shapes are in - but not quite pointed. Heels are slim, but wearable.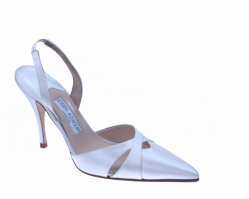 Thank you to Joseph Azagury for these helpful tips on choosing shoes to wear with your wedding dress. All shoes shown here by Joseph Azagury.