Something old, new, borrowed ... and some blue wedding flowers
The old rhyme about wearing something 'old, new and borrowed' on your wedding day becomes a bit of a mantra to some brides.
And it got me thinking about wedding flowers.
In particular blue wedding flowers.
There are just so many blooms to choose from: Hydrangeas, hyacinths, forget-me-nots, cornflowers, iris, delphiniums, lavenders, poppies ...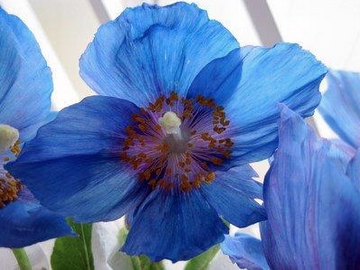 You could either have a dazzling bridal bouquet all in shades of blue, or focusing on one block colour.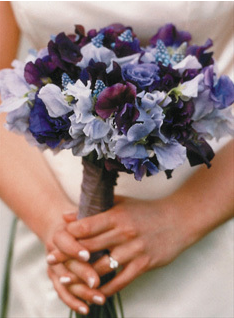 Alternatively you could intermingle blue wedding flowers in the bridesmaids' posies or your wedding table decorations. Consider using co-ordinating ribbons to add to the effect. If you don't want your bridesmaids dresses to be blue, maybe have a vivid blue sash.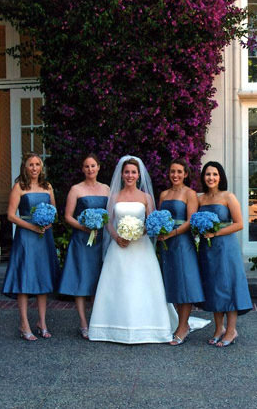 I've been to a wedding where the church was decorated entirely with delphiniums in every shade from a rich dark navy through to the palest light blue. Stunning.
Here's a simple DIY idea for your wedding aisle. Wrap up inexpensive pots of blue daisies in matching tissue paper and then place them at the end of the seating lines. After the ceremony, they can double up as table centres.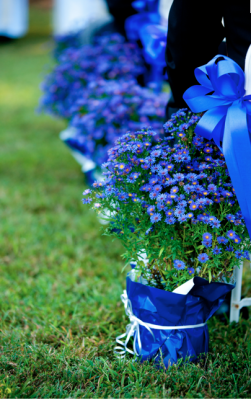 Think about the colours you contrast with your shades of blue. One of my absolute favourites is blue with a rich chocolate brown - I think these hydrangea bouquets work well with the brown bridesmaid frocks.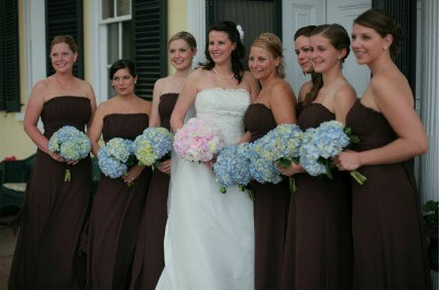 Of course, you'll almost certainly be keeping an eye on your budget so depending on the time of year you get married in, some flowers will be in season, others won't. So in Spring, maybe opt for hyacinths and a bit later on irises. Summer would be perfect for delphiums whilst cornflowers come into their own in about August. The best person to ask for advice is your florist.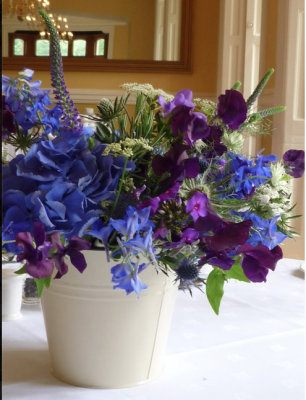 Photo credits: images 3,4,5 via Project Wedding. Flowers in cream bucket via G Lily Florists.