DIY Wedding Stationery - Featuring beautiful Ranunculus flowers
What are my favourite wedding trends right now? Well I LOVE the way that homemade weddings have taken off big time. I've also raved about ranunculus flowers for a while now - so when I found this DIY wedding stationery featuring ranunculus blooms on Martha Stewart Weddings I just had to bring it to your attention.
DIY Wedding Stationery With A Professional Touch
You can create your own save the date cards, floral insert envelopes, wedding invitations, RSVP cards and place settings. You'll get a really professional finish and save on your budget so you can put the money towards something else.
You can download the templates from Martha Stewart Weddings where you'll find advice on the weight of paper to use. Download the ranunculus clipart to create your design and add your information for your wedding date, time, venue, RSVP details and the like.
You'll have to handwrite your guests' names and the RSVP date - either yourself or ask a friend with beautiful calligraphy.
If you've a particular wedding theme - like roses - you'll also find rose themed stationery on the Martha Stewart link and tulips too - which might be an idea for a spring wedding.
For me though, it would have to be ranunculus all the way. Enjoy creating these DIY wedding invitations.
And in the meantime, here's a photograph of a field of ranunculus blossoms to inspire you!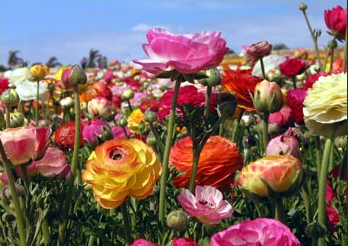 Photography Credits: Main image Raymond Hom via Martha Stewart Weddings.
Ranunculus flowers via GardenSnob.com