How to create a DIY wedding bouquet
I'm all for personalising your wedding with some handmade touches so when I discovered these instructions for a DIY wedding bouquet I thought I should share them with you.

Even if you're not confident enough to make your own wedding bouquet, this tutorial will come in handy in the future for making bouquets and perhaps you could create posies for your bridesmaids or flowergirls?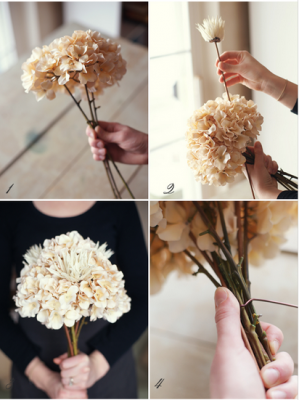 The equipment you need is simple; hydrangeas, chrysanthemums, brown floral and natural wire, ribbon, a glue gun and wire cutters. Most of these are available from florists, florist suppliers and craft shops.

Although the flowers shown here are neutral, there's nothing to stop you using the colours you've planned for your own wedding day - whether you're making a pink bouquet or want to be on trend with clashing purples and oranges. Have some fun, play around and see what works for you.

What shades are your bridesmaids wearing? All one colour or are you deliberately mismatching? You could make a bouquet in each colour to co-ordinate with their frocks. Or maybe match the flowers to their shoes, especially if they're wearing different hues.

You'll find full instructions for making this DIY wedding bouquet on the Wedding Chicks blog. It's a great blog to follow, with plenty of wedding inspiration and some wonderful photography to gaze at. Enjoy!