Ideas for pink wedding flowers
I've been thinking about the colour pink today - and all the different shades there are when it comes to choosing wedding flowers in pink.

You could opt for the softest blush, a rich rosy pink or a vibrant hot fuchsia shade.

As for flowers - well it's hard to know when to stop when you've got pink as a theme. Roses come in every shade of pink - a delicate pale hue right through to a luscious deep magenta. Then there are peonies, gerberas, orchids, freesias, sweet peas, ranunculas .... your florist will be able to advise you. You can be sure that if you're using pink as a wedding theme, your main difficulty will be choosing exactly what to feature, as you'll discover you almost have too much choice.

Of course, you can mix up pinks too.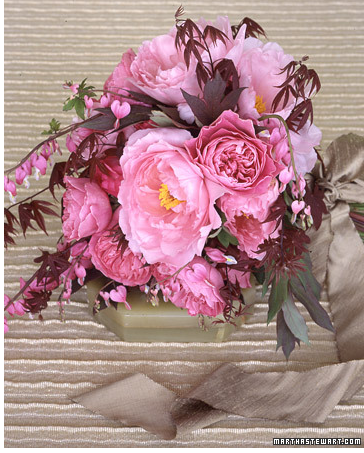 Explore using different colours of foliage in rich deep shades, to contrast with your pink blooms. Work in other blossoms too that alternate, as in this bouquet above from Martha Stewart.
How about giving your bridesmaids pink bouquets - but with different types of flowers or with different shades of pink? Maybe a traditional rose bouquet, something perky featuring gerberas and another featuring orchids.

You can also decorate the chairbacks of the main bridal party at your wedding reception. I particularly like the floral chairbacks shown above which were created by G Lily. I also adore the pom pom flowers here, which work well both at the ceremony and afterwards at the reception, particularly at a garden wedding or lining the path up to the main entrance.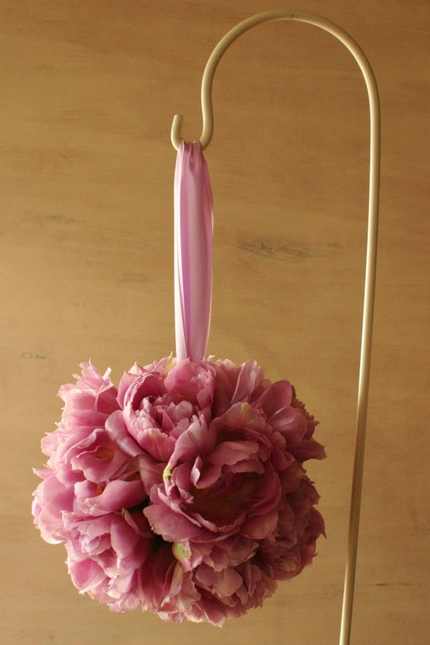 If you still love pink as much as you did when you were a young girl, you might be thinking of dressing your bridesmaids in the same colour. Contrary to tradition, it's not only blondes who look good in pink. Depending on the shade you choose, it looks wonderful on brunettes and all skin tones.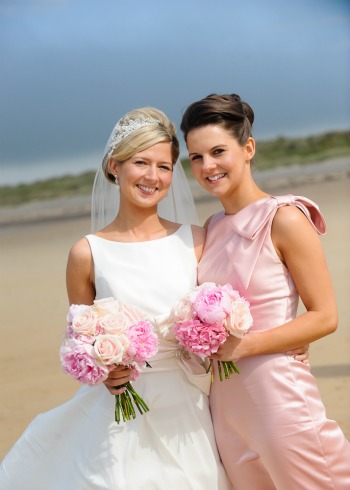 This bride dressed her bridesmaid in a classic bridesmaid dress by Dessy where you'll find frocks for your maids in just about every shade of pink you can imagine.
Photo credits: Chairback image and flower pomander via G Lily. Peony bouquet via Martha Stewart. Bride and bridesmaid at bottom via Brideen Photography.