Inspirational Wedding Blogs To Watch
I've just been inspecting the Bride Tide Top 100 Wedding blogs of 2012.
If you're planning your wedding day, then you need to have a look too. Whether you're looking for DIY inspiration, fabulous wedding photography, ideas for wedding cakes or just want to indulge in beautiful wedding imagery, you're bound to find something you love.
For now, I've rounded up some wedding blogs that really appealed to me.

1. Bride on a Budget. Tips for keeping your costs down, but advice on when you should splurge too!

2. OMG I'm Getting Married. Ideas for dresses, hairstyles, photography. Grab a cup of tea and get reading ...

3. Pocketful of Dreams. A great blog all about styling your wedding.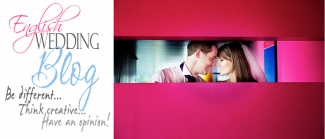 4. English Wedding Just what it says and I always love the photography featured here.
This is just a small selection of my favourites but you should definitely have a look at the Top 100 Wedding Blogs for 2012. Plenty of ideas for brides-to-be wedding planning!