10 last minute ideas for your summer wedding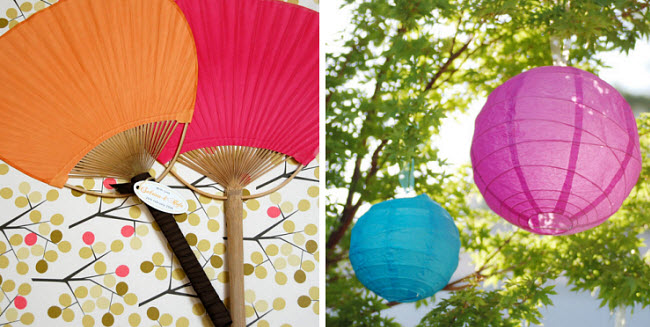 It's May and yes, the weather could be better (when will it stop raining?) but I'm already loving the long, lighter evenings which make me think of romantic summer wedding celebrations that continue into a warm, balmy night.
So, how can you make the best of your summer wedding? Embrace all that the summer months have to offer? I've been looking at wedding blogs and Pinterest (one of my favourite mood board sites - more about this in a day or so) and getting some ideas together for you. None of them take that much time to organise and most are inexpensive.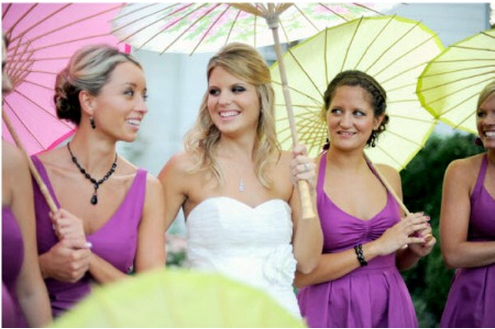 If I was holding a summer wedding, this is what I'd do:
Set up some outdoor (or tented) chill-out areas . Your guests will enjoy relaxing, chatting and gazing up at a starlit night. You'll need bean bags for everybody to loll about on and might like to consider a terracotta firepit to keep summer chills at bay.
Light your guests' way with pretty lamps and candles in jam jars. Remember you can hire a lot of this type of accessory - you don't need to splash out and buy. Or check some of my DIY wedding blogs for decorations with candles.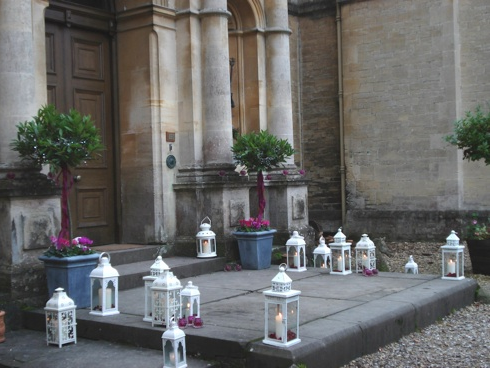 Think about accessorising your bridesmaids with parasols. They don't need to be all one colours - think rainbow shades, pastels or clashing reds and pinks. Parasols look wonderful in wedding photographs, make a great bridesmaid gift and of course, stop shoulders becoming sunburnt.
On a hot day your guests will get thirsty, so make sure there are plenty of soft drinks on offer - maybe an old fashioned cloudy lemonade or that great pick-me-up, a proper cup of tea.
If you're having a DIY, homemade kind of celebration, then what about ditching the DJ and holding a barn dance instead - in a real wedding barn. Scatter hay bales around for seating, hire a caller and watch your guests enjoy a hoe down!
Think about decorating the trees around your venue. Use balloons, hurricane lamps or make some tissue paper pom poms.
At a summer wedding, you don't necessarily need a formal sit down dinner inside. Why not have a buffet, so your guests can mix and mingle, or organise a hog roast with an ice cream van for dessert (both great ways of keeping your costs down).
Put out croquet sets, giant Jenga and chess sets so guests can enjoy outdoor games.
If you're already married, how did you organise your summer wedding? Have you got any ideas that worked particularly well that you'd like to share? I'd love to hear your comments.
Photo credits: Parasol image via Style Me Pretty. Lanterns via G Lily Hire.