How to cope with rain on your wedding day
As I write this, it's pelting with rain outside and I'm thinking of all the brides getting married this weekend who might be having to deal with rain on their wedding day.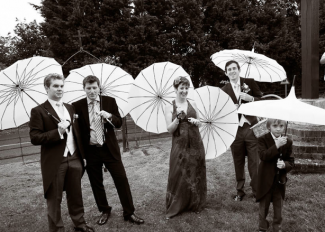 Well, managing the British weather is something you have to take in your stride if you've decided to stay in this country for your big day. To be honest, the only way of ensuring you have glorious sunshine is to have a destination wedding.

You've decided a sandy beach or an Italian palazzo is not for you, so what do you do if you wake up on the morning of your wedding to a deluge outside?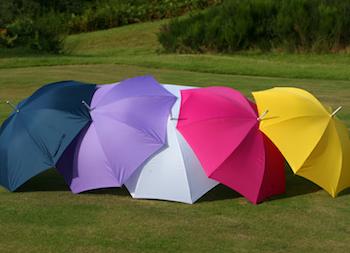 First off, don't panic. You'll just need to have a few plans in place for this eventuality. And remember your guests want to enjoy your day and a bit of rain isn't going to stop them.


Involve your photographer in your brolly plans. David Bostock of The Bridal Photographer took these fabulous umbrella shots and suggests using umbrellas as a prop in your shot and turning them into a positive.
You can hire umbrellas last-minute via Brollybucket. Available in fabulous colours (yep, you can match up that wedding colour theme) and the company will both deliver and collect after the event.
Don't let your beautiful wedding shoes get ruined outside. Think about treating yourself to some 'Weddington' boots, so you can lift up your skirts and splash through the puddles regardless.
Your wedding flowers will stay fresher longer on a damp day. A hot day might be glorious, but it makes flowers droop and wilt (sometimes the guests feels the same way too).
Your make up will last longer on a damp day too - you'd probably have opted for waterproof mascara in any case (all those happy tears).
Remember that a happy wedding day is all about being relaxed and enjoying the moment. There's absolutely nothing you can do about the weather so don't stress about it - just go with it.


Did you get married on a wet day? How did you deal with it?

Photo credit: All images via David Bostock except for coloured umbrellas via Brollybucket.