Heels aren't every bride's thing and some of you ladies out there might be planning on wearing flat wedding shoes.
You might be having a destination wedding on a sandy beach and heels won't quite cut it.
You might be having a country garden wedding and want to wear something simple with a rustic feel.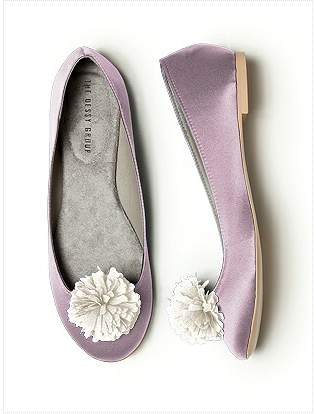 If you're wearing a long floaty number you may be nervous about catching your heel in your train - so flats will work better for you. You know that you'll relax more and enjoy your day (and after all, isn't that what it is all about?)
(You might not want to be taller than your bridegroom.)
You may just feel very uncomfortable in heels and much prefer flats.
That's okay. It's your wedding day and you should please yourself
Just because you're choosing wedding flats doesn't mean that you have to sacrifice style though.
There are a heap of fabulous ballet slippers, ballet flats and sandals out there to choose from. You're sure to find something that suits your dress.
You can find a wide range of wedding flats from some favourite designers. Many are available in different colours to pick up your theme, although a new trend for brides is to have shoes that contrast with your dress - maybe Tiffany blue with an ivory dress or go out and wear red!
If you need your shoes dyed a special colour, check out the service offered by Rainbow Club - every dazzling shade you can imagine!