Thinking About A Destination Wedding? Here's Why You Should Consider It.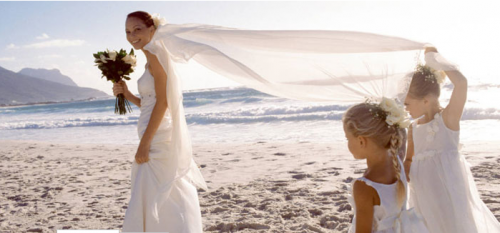 Destination weddings - or weddings abroad - are becoming more and more popular for couples looking for somewhere new to tie the knot.
Why You Might Choose A Destination Wedding
There are all sorts of reasons to forego a traditional wedding in the UK and venture further afield.
It's cheaper. Although you might be getting married on a palm fringed sandy beach that's thousands of miles from home, it can work out costing you less than having a sit down dinner for 150 in a hotel back home.
You're almost guaranteed good weather. Forget about umbrellas, snow, ice and disappointing black clouds. Get married abroad and the sun will almost certainly shine on you.
If it's a second time around wedding, you can keep it small, intimate and personal to you. Just invite your children and close family.
You don't have to invite many people and you can be sure that those who really want to attend your big day will do so.
You can get married somewhere you've always dreamed of. Maybe a fairytale castle in Italy - or even in sight of the Sleeping Beauty Castle at Florida's DisneyWorld! You could also get married at sea!
If you want your wedding just to be about the two of you - rather than surrounded by people you feel you have to invite, then you can do just that. You can also combine it with the holiday of your dreams - and spend your money on your honeymoon rather than a wedding reception you'd just as rather do without
You can use your wedding as a chance to visit somewhere you've always wanted to. You can get married in Sri Lanka, Mauritius, Italy, Cyprus, the Caribbean or even have a wedding in Las Vegas.
If you need help planning your destination wedding, you'll find some useful checklists on the Dessy website with advice on what to wear (and what to avoid), how to do your destination wedding hair, beauty tips, photography ... And if you had a destination wedding yourself and want to share your tips with us, we'd love to hear them.
Photo credits: Images via Kuoni Travel.