Retro Style DIY Cake Topper Adds A Personal Touch To Your Wedding Reception
What do you think of this DIY cake topper? I just spotted it on Style Me Pretty and thought it was really effective and personal. It's also very inexpensive to make.
Who Would You Feature On Your DIY Cake Topper?
In this image, the instructions have shown a bride and groom from yesteryear - maybe the bride or groom's grandparents on their wedding day? That's a charming idea - and I think it would work fabulously for an anniversary (in fact on your first wedding anniversary, you could put a photo of you on your spouse as newlyweds on a cake).
But there's no reason why you shouldn't include a more up to date shot of you and your fiancé. Maybe a couple of photos of you as kids? Or when you started going out together? The first shot you had taken of you both as a couple? Your engagement pictures?
Whatever you choose, this DIY cake topper idea is a very personal way to decorate your wedding cake (which is often a centre of attention at a wedding reception).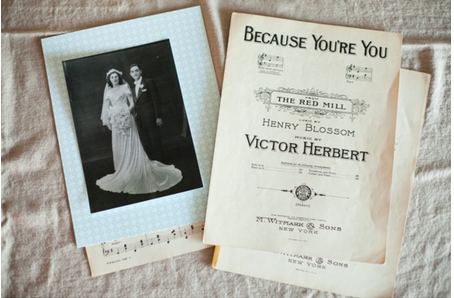 You need very few materials to create the topper:
Photo of you two as a couple (or an old wedding photo if you're taking the vintage route)
Scissors
Sheet music (for the base, or you could in fact use any sort of patterned paper you wanted)
Paper glue
Patterned stock paper for the back of the photograph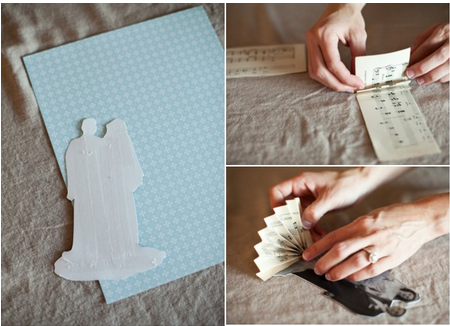 Instructions:
Cut out the photograph you're using, creating a silhouette of the individuals featured. Stick the photograph onto the patterened stock paper with the glue and leave to dry. (Make sure that the pattern on the stock paper is facing outwards!) Cut the music sheets (or whatever other paper you are using) into two separate 2 1/2" strips. Fold like a fan to make a half circle. Stick the half circle to the bottom of the photo at the front, and then put the other half circle at the back to form a stand.
Voila! You have your very personal, highly individual cake topper!
Check out DIY wedding envelopes here.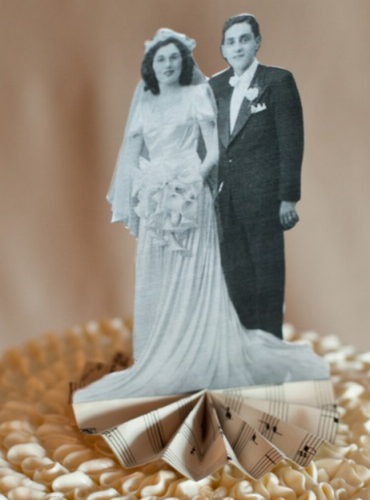 Thanks to Style Me Pretty for sharing (where you can read the full post). Photography by Jackie Wonders