Colors, light, enchantment - a wedding in New South Wales
Today's wedding caught my eye because of the sheer beauty of the venue, the color palette of pale whites and creams and the stunning way the photographs are lit (by the talented NGG Studios in Brisbane, Australia).
Jo and Olly got married on Hastings Point Beach in beautiful New South Wales, Australia. The couple were blessed with perfect weather and during the beach photography, two Osprey eagles were circling overhead - which must be a good omen!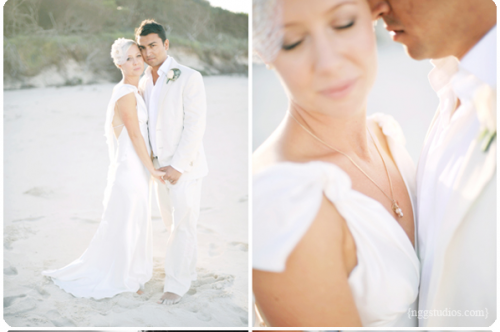 What do you think about the groom dressed all in white? I think it is just perfect for a beach wedding - where a dark suit would be just too heavy.
I love Jodie's dress as well. Long, floaty and goddess style - it's a real classic and she chose perfectly for her casual setting, although the dress to me is the epitome of elegance. You really don't want lots of frills and fuss when you're getting hitched on the beach - and nothing tight and too fitted (or you'll be too hot). Think simple lines and forget the heels - think bare feet and flats. (Read my previous blog with tips on dressing for a destination wedding.)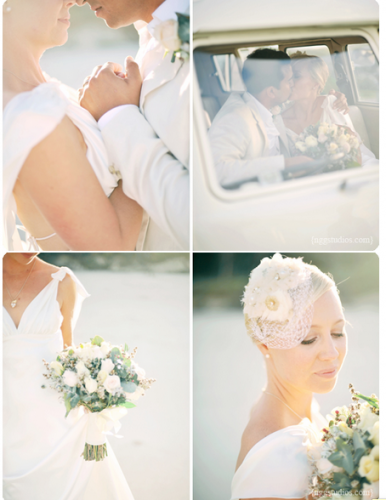 Her flowers are inspired. And if you're marrying on a beach, a birdcage veil like this cutie is a perfect way to go, especially if you're not keen on a long veil that may flap in the breeze.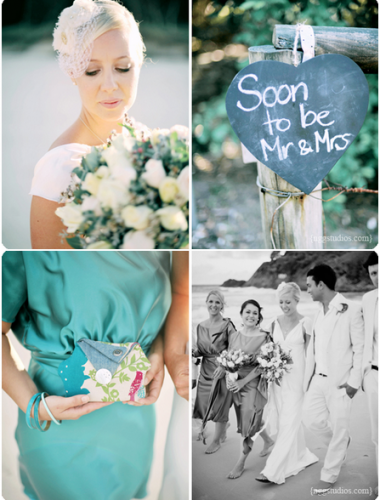 She's added a splash of color with the aquamarine blue bridesmaids' dresses - which contrast perfectly with the skies and the setting.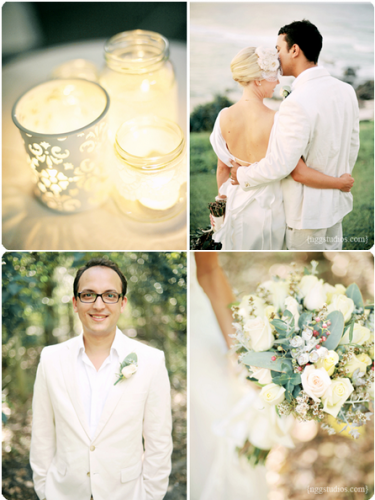 Often when we think of beach weddings, we see palm trees, bourgainvillea and tropical oceans in our mind. But this beautiful Australian wedding shows that there are other types of beach which are just as beautiful a place to marry - you just have to keep an open mind and think about what you'd really like.
Thanks to NGG studios for this wonderful photography and Jodie & Ollie for sharing their beautiful wedding.