Create a DIY Canvas Print of Your Engagement (Or Wedding) Photographs
You've probably got some beautiful photographs of yourself and your other half - maybe engagement pics, holiday pics or your wedding pics if you're already married.

Turn Them Into Works Of Art

Presented on a large canvas, photos can become works of art with which to decorate your home - and be a beautiful visual memory of happy times.

Before or after a wedding though, you're probably counting the pennies more than usual and trying desperately to stick to your budget - so anything you haven't planned for has to fall by the wayside a bit.

Which is why I really wanted to share this DIY post with you from the blog 'A Beautiful Mess'. It shows you in easy steps how to create your own canvas artwork from your own photographs - and saves you a lot of money along the way.

What Images Will You Frame?

You can frame your engagement or wedding images in this way - or alternatively, if you're the chief bridesmaid or best friend reading this, why not present the bride and groom with a canvas as an imaginative gift which they are certain to treasure.

All you need is your photographic image, a blank canvas, gel medium, brush and a spray bottle of water.

Remember, your image can be colour, black or white - and if you've some image editing software on your computer you can create all sorts of different effects with your photograph (sepia, dotty) before you print it out. Do something really arty that will be very different!

You'll find full instructions for creating your DIY canvas print here via A Beautiful Mess.  Enjoy! Don't forget, you can always share your results on the Dessy Facebook page - and any other DIY wedding ideas you may have.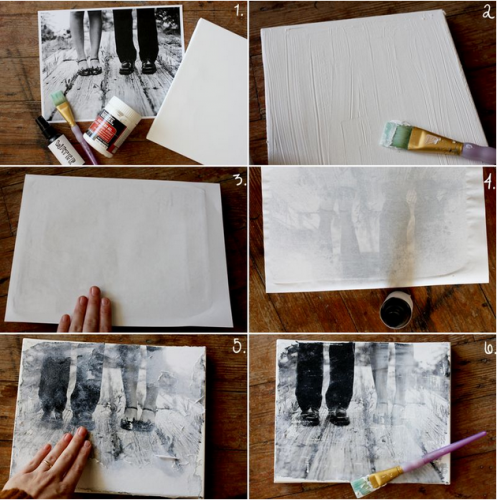 Photo credits: All images and idea via A Beautiful Mess