Is this your secret weapon for wedding planning?
I need to tell you about a secret addiction I have. It's not illegal or immoral or unhealthy but once I'd started I couldn't stop!

It's called Pinterest and if you're wedding planning and you haven't already discovered it then You Have Got To Take A Look.

Pinterest is basically digital scrapbooking. Back in the day, when you saw something that inspired you in a magazine, you just tore it out and filed it.
Wedding Planning By Visiting Your Favourite Wedding Websites
Well, now you can do exactly that but online. So you're planning your wedding and browsing sites like Bridesmaid, Martha Stewart Weddings, Bridal Snob, Style Me Pretty .... having an absolutely fabulous time looking at images and getting ideas for your own big day.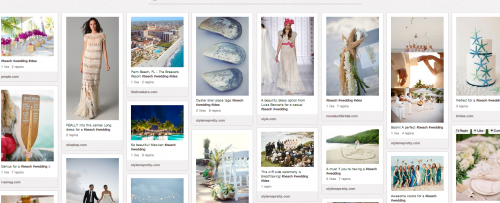 Beach wedding ideas via Pinterest
You split your scrapbook into boards - so you might have one for cakes, wedding dresses, bridesmaid dresses, flowers .... you get the idea.
You just 'pin' the pictures you like direct from a website and put them on your boards. What's more, on Pinterest itself you'll find some excellent ideas all ready and waiting for you. Visit the Dessy Group board and you'll see that their wedding inspired boards are divided into subjects like; pink wedding dresses, wedding food, yellow bridesmaid dresses and beach wedding ideas.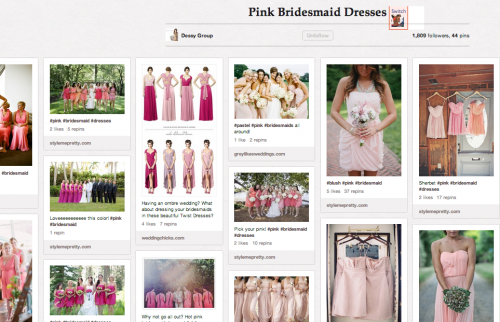 Pink bridesmaid dress ideas via Dessy Group on Pinterest
What's more, you can invite your friends to join in the pinning of your boards - so if your best girlfriend lives far away, you can share your thoughts with her online.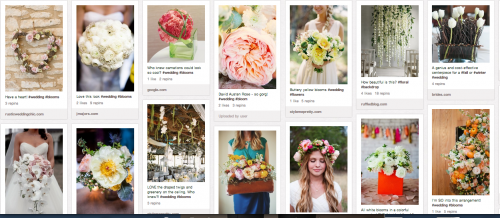 Wedding blooms via Dessy Group on Pinterest
Have a look, open an account and get pinning to help inspire your wedding planning. But be warned, once you've started you're going to find it hard to stop!