Wedding Dance Music - How To Get It Right
You're almost certainly going to want wedding dance music at your reception. But how on earth do you choose tunes that are going to get your wedding party in the mood, hit the dance floor and stay there?

I decided to consult an expert and got in touch with Al Mayfield of Great Events Etc - who has put together entertainment for such celebs as Jamelia and Cheryl Cole - who gave the following advice.
Tips For Wedding Dance Music
The bride should write her top five favourite tracks on a piece of paper. Then send it to her head bridesmaid, asking her to add her top five. The bridesmaid adds to it, then passes it onto the other bridesmaids, asking them to give their top five and so on. This gives the DJ a flavour of what the music playlist should be, and ensures that the bride will enjoy the dancing. (Of course, this works for any party you're having music at, not just weddings.)
Music that makes a party 'go'. Al was a nightclub DJ before he set up Great Events Etc 15 years ago so he certainly knows what he's talking about. Here are his sure fire hits for filling the floor;
'Valerie' by Amy Winehouse
'I want to dance with somebody' by Whitney Houston
'Celebration' by Kool and the Gang
'Oops Upside Your Head' by The Gap Band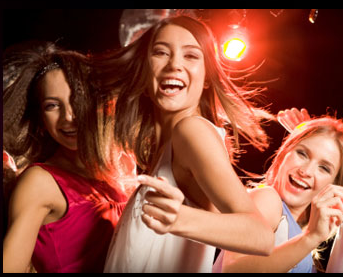 It's essential to have a 'chill-out' room if you're going to be playing music non-stop. People sometimes need to get away from the sound and the older generation who might not hear so well probably want to talk. One way of killing a party stone dead is playing loud music - people who don't want to dance will leave if they can't talk to one another.
You're aiming for two big peaks with the music - build up to the first peak, then have a brief lull before putting on another style of music. Maybe a track by Abba that will appeal to the 70's generation!
Thanks Al for sharing the inside info with us. You can reach Al at Great Events Etc who plan music for all sorts of parties and not just for celebs!