Put It [Your Love] In Writing ....
It's not real until you have it in writing... So, why not put your wedding plans into a perfectly packaged magazine for invitees? Twenty Pages is a progressive wedding website that lets couples put their wedding day plans on paper for guests to enjoy.



To get started you first choose one of three templates that best represents your personality as a couple. Options include Jolie (vintage charm), Whim (timeless elegance) or Spark (fashion forward). From there you can customize your magazine with images, content and personalized design elements to share your past, present and future as a couple with your loved ones!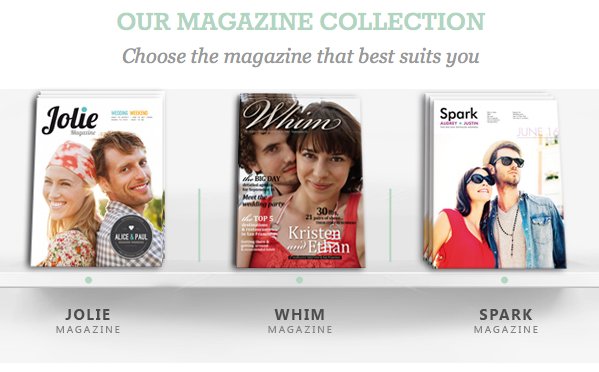 A comprehensive package includes the following:

- All design work and layout for the magazine style of your choice: Whim, Spark, Jolie, etc.
- Expert photo retouching and rendering
- Professional third-party high resolution images and fonts (for example, pictures of the city or location where your wedding takes place)
- 2 rounds of revisions to modify your text and pictures to your liking
- Minor customization design changes to the magazine template (small changes on the cover, etc.)
- Professional grade print quality

Check the site out for yourself here: TwentyPages.com

And they say that magazine publishing is a dying field... Not with this unique twist!