OneWed Launches Wedding Inspiration for the iPad
Wedding website OneWed has recently launched an iPad application that makes wedding planning even more of a breeze! Wedding Inspiration is an easy-to-use app to help you find inspiration for your wedding in an endless stream of high quality wedding photos.



Discover ideas in categories like dresses, hairstyles, and decor, or browse based on your style, from classic to vintage to DIY. Add photos to your favorites to use like an idea board, or share them with your friends for feedback.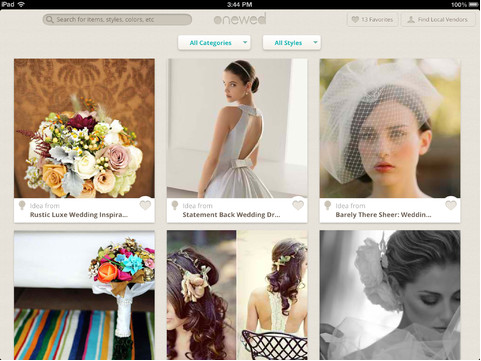 Many photos feature products that you can buy online (like dresses and rings), or showcase the work of 39,000+ local wedding vendors available for booking (like photographers and florists). That means when you're ready to get down to business, you won't have to work as hard to track down the things you love!

- Browse photos by category and style
- Search by designer, color, or keywords
- Create an idea board of your favorite photos
- Share photos via email or social networks
- Buy the products in photos
- Contact the vendor whose work is featured in a photo

More than gorgeous wedding photos - plan, book, and shop for your wedding with inspiration as your guide.

This application boasts exceptional user reviews and is a true asset to wedding and party planning. Happy planning!!