An All-In-One Wedding App for iOS and Android
We feature a lot of incredible iOS wedding applications on our site, but Android brides-to-be need some on-the-go help when planning their Big Day too... Enter Noeeva - an app that makes organizing and planning your wedding a certifiably easy breezy!



Noeeva is cinch to operate and has features that organize everything from your to-dos to your budget, and it can even help you with venue scouting! Possibly the best part of Noeeva is BRIDETALK! Bridetalk is acts as an inner circle community so that brides can communicate with their bridefrieds... Bridetalk allows users to:



Post messages to their feed and get replies from your bridefriends


Post shareable images or photos from your library


Take a photo with your camera on the go and post it to your feed


Search and follow other brides for inspiration and ideas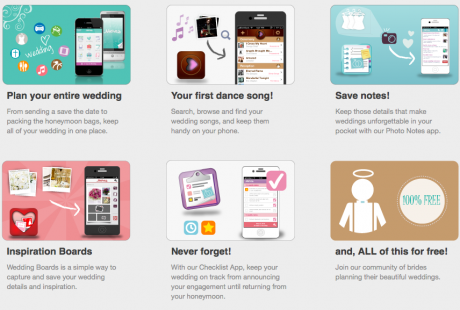 Simply put, Noeeva brings all the ease and inspiration of social media to a platform that remains personal and private -- share what you want and nothing more!

For a list of all Noeeva's many features,  see below.



SAVE THE DATE: Begin sharing the happiness (to Facebook and Twitter) -- Hey it's a beautiful, digital world!


 TO DO LISTS: Create detailed to-do lists


BUDGETER: Keep control of your budget $$


GUEST LIST: Manage your guests and tables


SCHEDULE: Schedule appointments and payments -- for you and your fiance... Now he'll have no excuse when he misses the floral appointment!


VENDORS: Browse or search among thousands of vendors, call them, email them or map their location and see what other brides think of them


CHECKLIST: Never forget the things that matter by looking at our thorough checklist


PHOTO-NOTES: Remember those little details that truly make the difference on our photo notes module


HONEYMOON: Be it Alaska, Cancun or Las Vegas, keep all your honeymoon options in one place


MEDIA: Get the latest trends in fashion, find DIY ideas or read about brides' stories from the best blogs in the web


and BRIDETALK... (see above for details on all of its awesomeness)



Happy planning!!